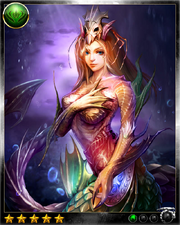 Type: Charm


Attack: 4880
Defense: 4230
Cost: 14
Ability: Warcry
Now, now, what do we have here? Another pretender to the throne? Do you realize that people such as yourself are powerless against the mighty sea tempests of history?

Released: 1/7/2013
Thetis was added with the first Guild vs. Guild event, Duels of Bloody Pride, as a reward for finishing in the top 1000 ranked players by Battle Points.
Ad blocker interference detected!
Wikia is a free-to-use site that makes money from advertising. We have a modified experience for viewers using ad blockers

Wikia is not accessible if you've made further modifications. Remove the custom ad blocker rule(s) and the page will load as expected.