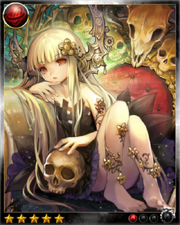 Type: Charm


Attack: 4300
Defense: 4600
Cost: 14
Ability: Lure of Love
Ughhh... I don't want to do this at all. It's been centuries since I was last outside. I haven't had a real rival in ages... I'm sick of this world!
Released: 11/15/2012 (game release)
Ordreg has been in the game since release.
Ad blocker interference detected!
Wikia is a free-to-use site that makes money from advertising. We have a modified experience for viewers using ad blockers

Wikia is not accessible if you've made further modifications. Remove the custom ad blocker rule(s) and the page will load as expected.