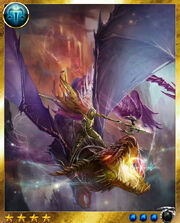 Dragoon Knight++

Attack: 5260
Defense: 4440
Cost: 11
Ability: Divine Aura
People ask me why I dared to partner with a dragon. A wyvern would have been enough, they say. I think our performance in the service of our liege prove otherwise.
Ad blocker interference detected!
Wikia is a free-to-use site that makes money from advertising. We have a modified experience for viewers using ad blockers

Wikia is not accessible if you've made further modifications. Remove the custom ad blocker rule(s) and the page will load as expected.