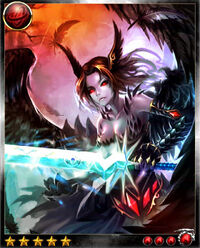 Demonsword (Bloodlust) MAX
| | | | |
| --- | --- | --- | --- |
| Attack: 15000 | Defense: 12500 | Cost: 11 | Ability: Warcry |
Yes... Yes! This is what I have longed for, what I've dreamed for, sword by my side, for all this time! Let the conquest begin! By the end, you will be King...and I will be a warrior of legendary caliber!
Recommended Players:
Demonsword (Bloodlust) is a MR card that can either be evolved from obtaining 4 copies of Demonsword from the Premium Card Pack, or by trading for it in the Bazaar. The amount of gems you would need to spend or the cards you would need to trade to get this card are unbeleivable. So it is recommended that only players who are willing to spend lots of time and money in the game are advised to try to obtain this card.
Ad blocker interference detected!
Wikia is a free-to-use site that makes money from advertising. We have a modified experience for viewers using ad blockers

Wikia is not accessible if you've made further modifications. Remove the custom ad blocker rule(s) and the page will load as expected.